Trailer Tow Hitches, Balls, Mounts and Accessories

Serving Santa Rosa, Ca
Trailer Tow Hitches, Balls and Ball Mounts
A trailer hitch can make it simple for you to tow large items. Whether you want to tow your camper or just need a way to get your bike from point A to point B, the right trailer hitch will simplify your life while keeping you safe.

Spring Works installs and sells trailer hitches from leading brands such as Curt, Draw-Tite and B&W. Our trailer hitches are designed to haul trailers, bikes, boats, cargo, and other vehicles. We also offer all trailer hitch accessories like ball mounts, hitch balls, wiring, and towing components to help you tow safely and reliably to any location. Call Spring Works today to get it done right.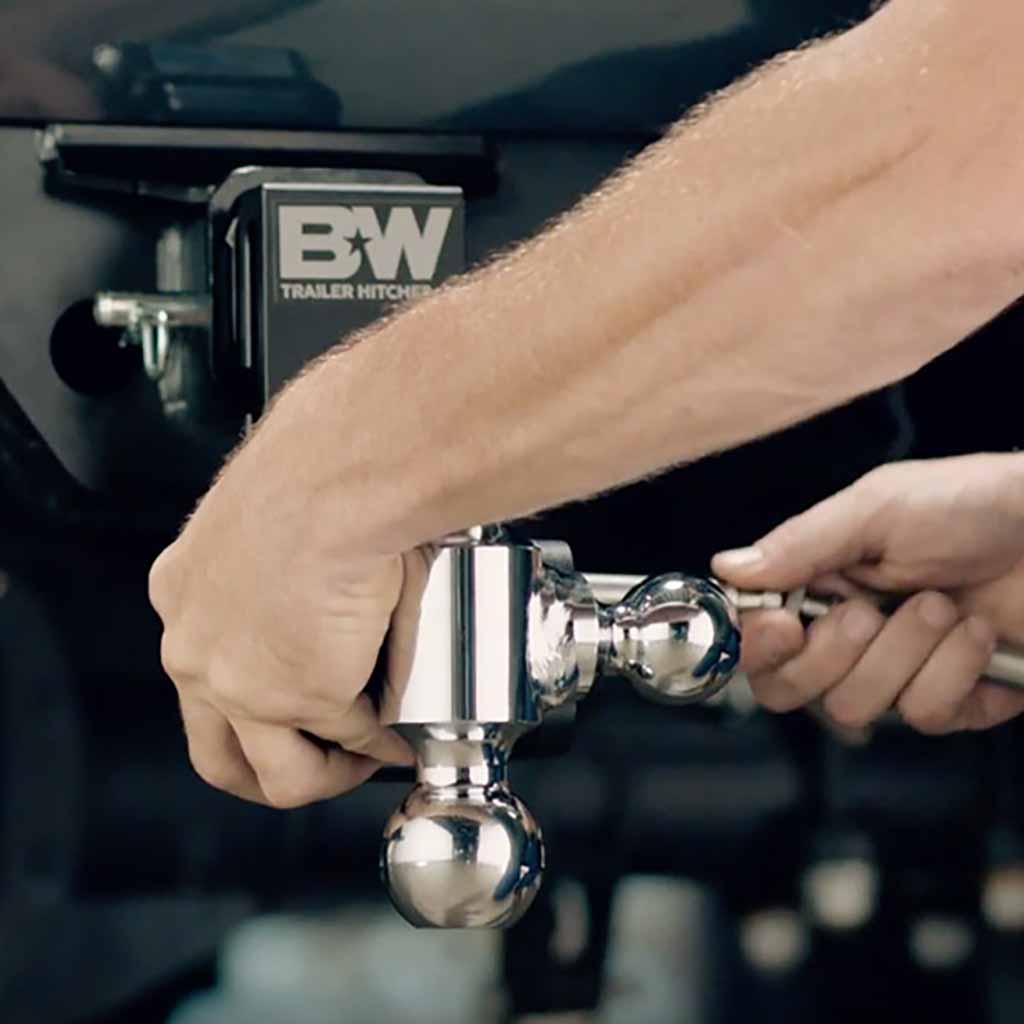 Receiver, 5th Wheel and Gooseneck Trailer hitches
Types of Trailer Hitches
There are a few different types of hitches. Here's a rundown of some of the most common types. Feel free to contact us if you have questions about what type of trailer hitch and accessories you need for towing.
For Cars and Light Trucks
Receiver Trailer Hitch
A lot of people get the image in their head of a ball mount when they hear the phrase "trailer hitch." The ball mount is a trailer hitch accessory. It's important for connecting the hitch to your vehicle, but it isn't the same thing as a trailer hitch.

A trailer hitch connects to the frame of your vehicle. Structurally, it's what bolts onto the tow vehicle and in some cases, vehicle being towed. A trailer hitch is the primary connector between a tow vehicle and a trailer.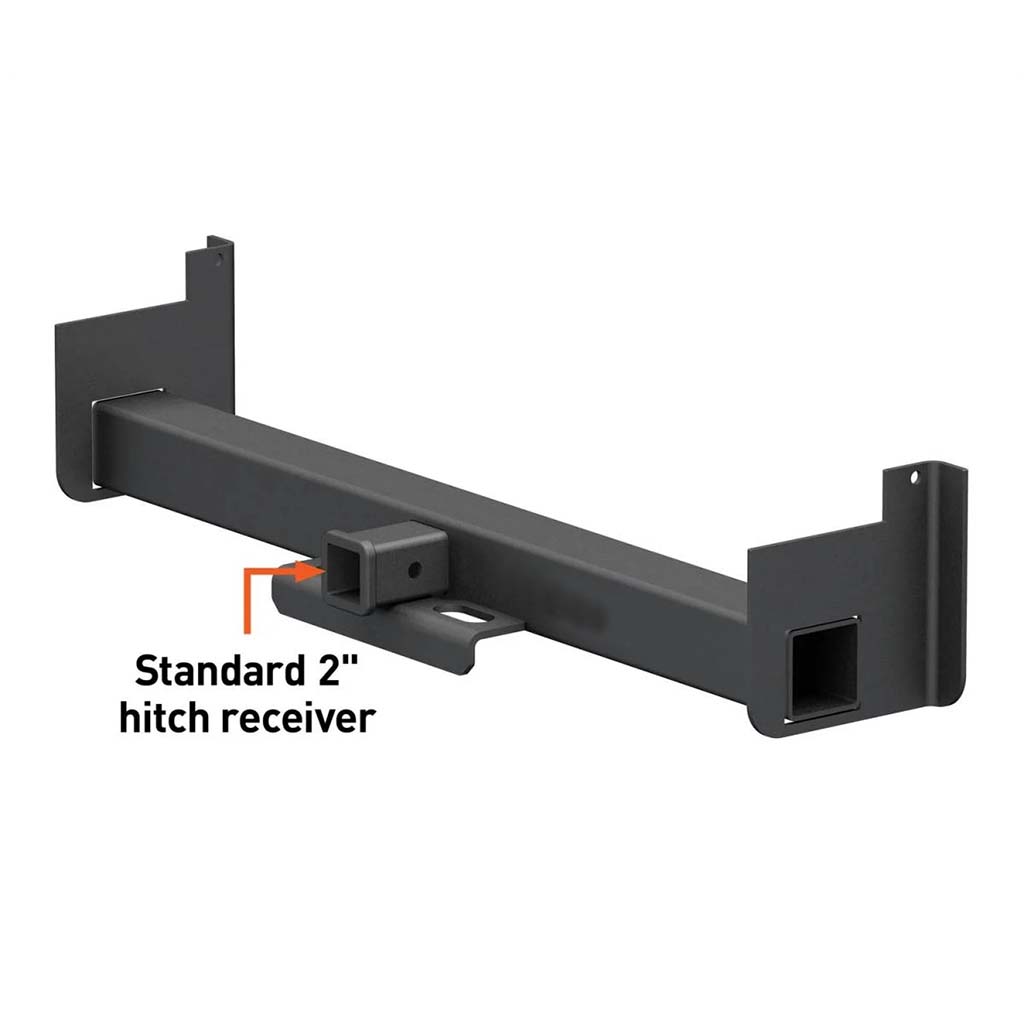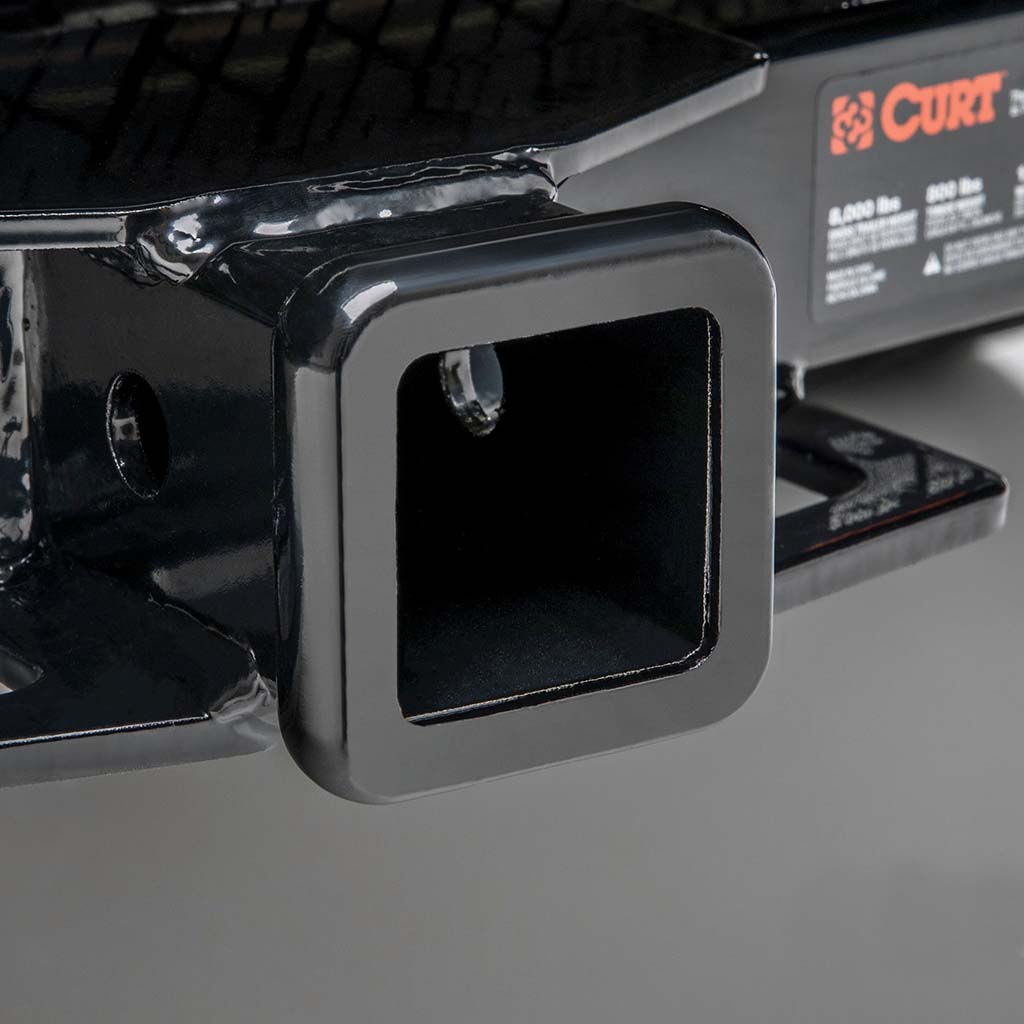 1-1/4", 2", 2-1/2", and 3" Receiver Tube Sizes
Trailer Hitch Receiver Tube
Built into every receiver style trailer hitch is a receiver tube. 2" is the most common. The tube is square and allows you to slide a ball mount or other hitch accessory into it.

You might even hear trailer hitch and receiver hitch used interchangeably. Receiver style hitches are trailer hitches with a receiver tube.

Trailer hitches usually have a vehicle-specific design and a standard receiver tube size. Some universal fit trailer hitches are also available. They can fall within one of the five hitch classes (more on that below).
For light and heavy truck use
Gooseneck Hitch
A gooseneck hitch is installed in the bed of trucks. The 3 most popular types are Under-Bed, Fold-Down and Above-Bed. Gooseneck trailers can be longer without destabilizing the towing vehicle. So you can tow longer, wider, and heavier trailers. Goosenecks are attached through the bed onto the frame of the vehicle. The trailer slides over the gooseneck ball. Distributing weight over the rear axle allows you to carry more weight. Goosenecks are primarily used for industrial use.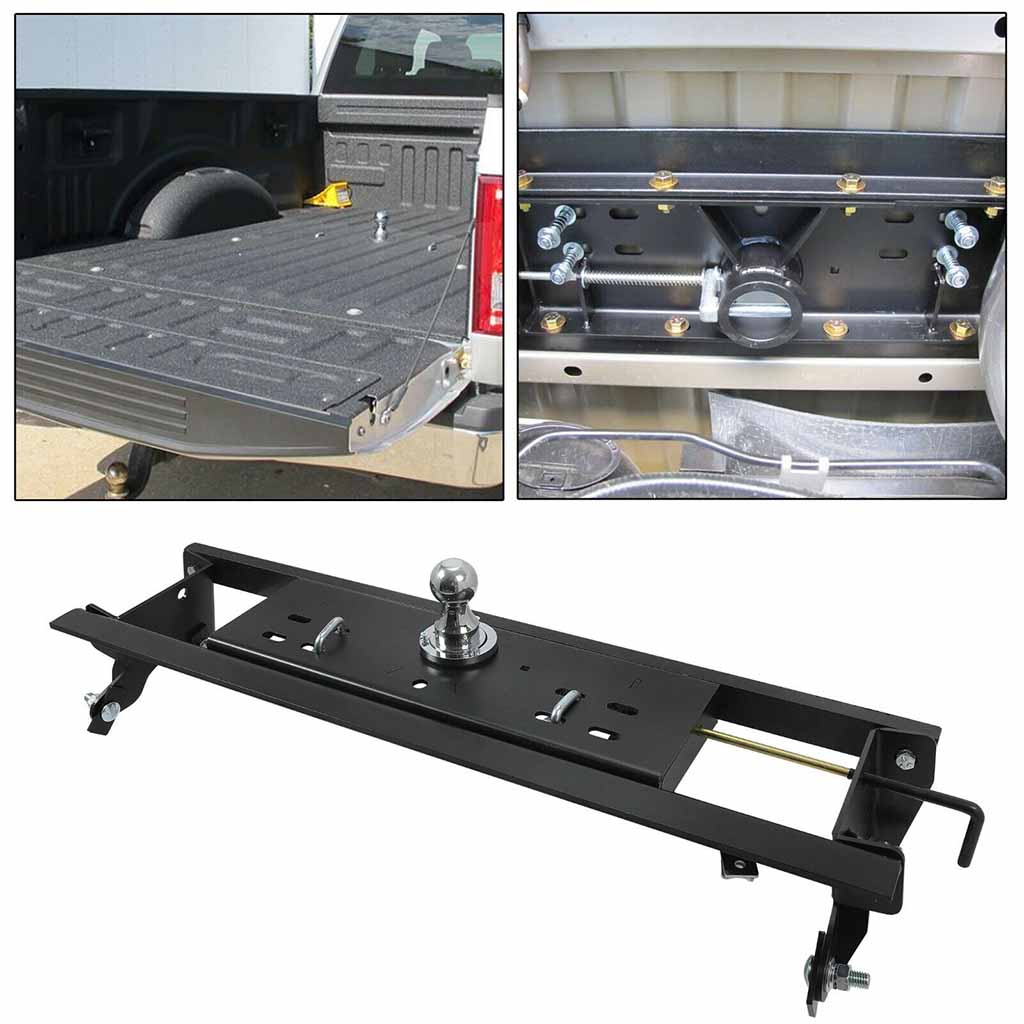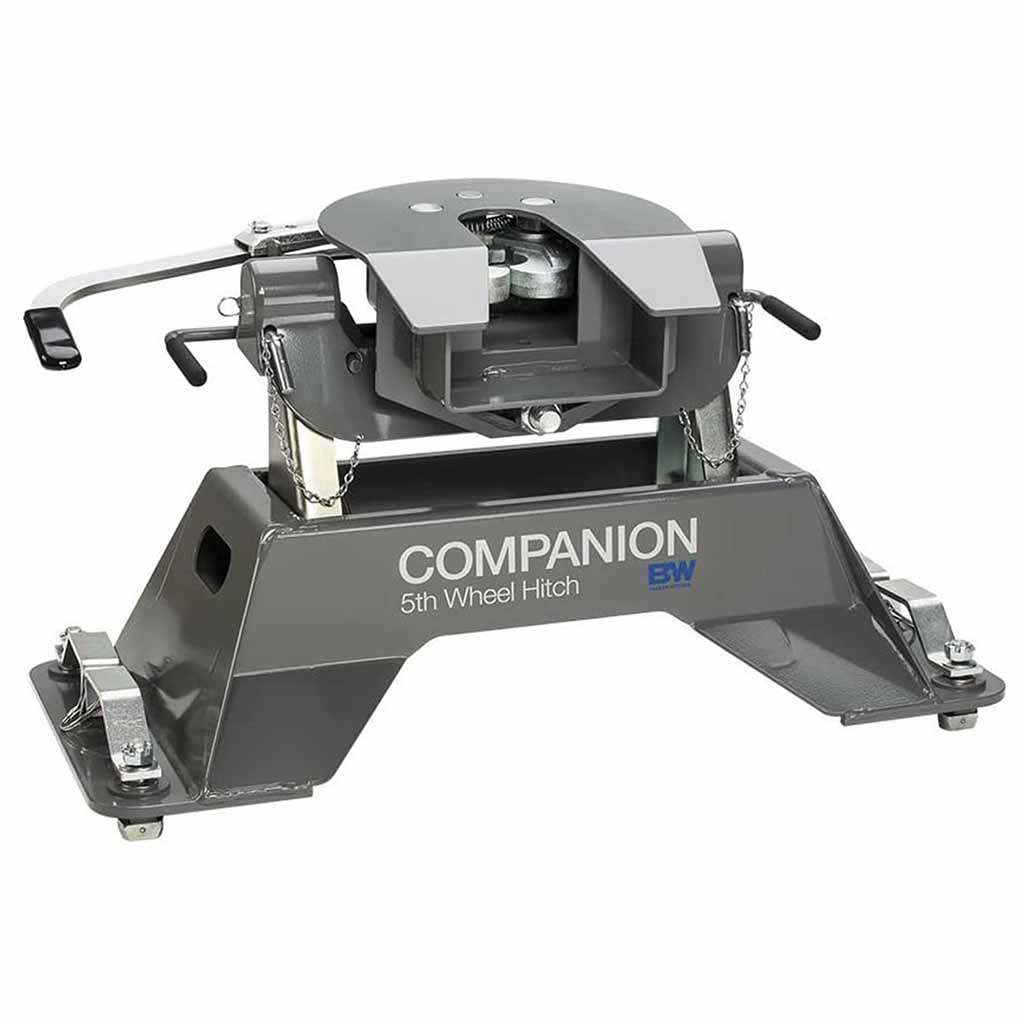 For Light and Heavy Truck Use
Fifth Wheel Hitch
Fifth Wheel hitches are also installed in the bed of trucks and attach to the frame over the rear axle. A fifth wheel attaches using a hinged plate in pace of a ball. Fifth wheels are primarily used for recreation use.
Choosing the right Trailer Hitch Class
The Five Trailer Hitch Classes
There are five classes of receiver-style trailer tow hitches used for different purposes and coupling styles. Each has its own set of capacity and sizes and the classes range from 1 to 5. A higher class number equals a higher towing capacity.

One thing to note is that each specific hitch will come with its own towing capacity, which may be lower than the maximum weight range of its trailer class. Always follow these guidelines. Your towing capacity is limited to whatever the lowest-rated towing component is. That an include your hitch, your vehicle, your trailer, an accessory, or any other towing system component.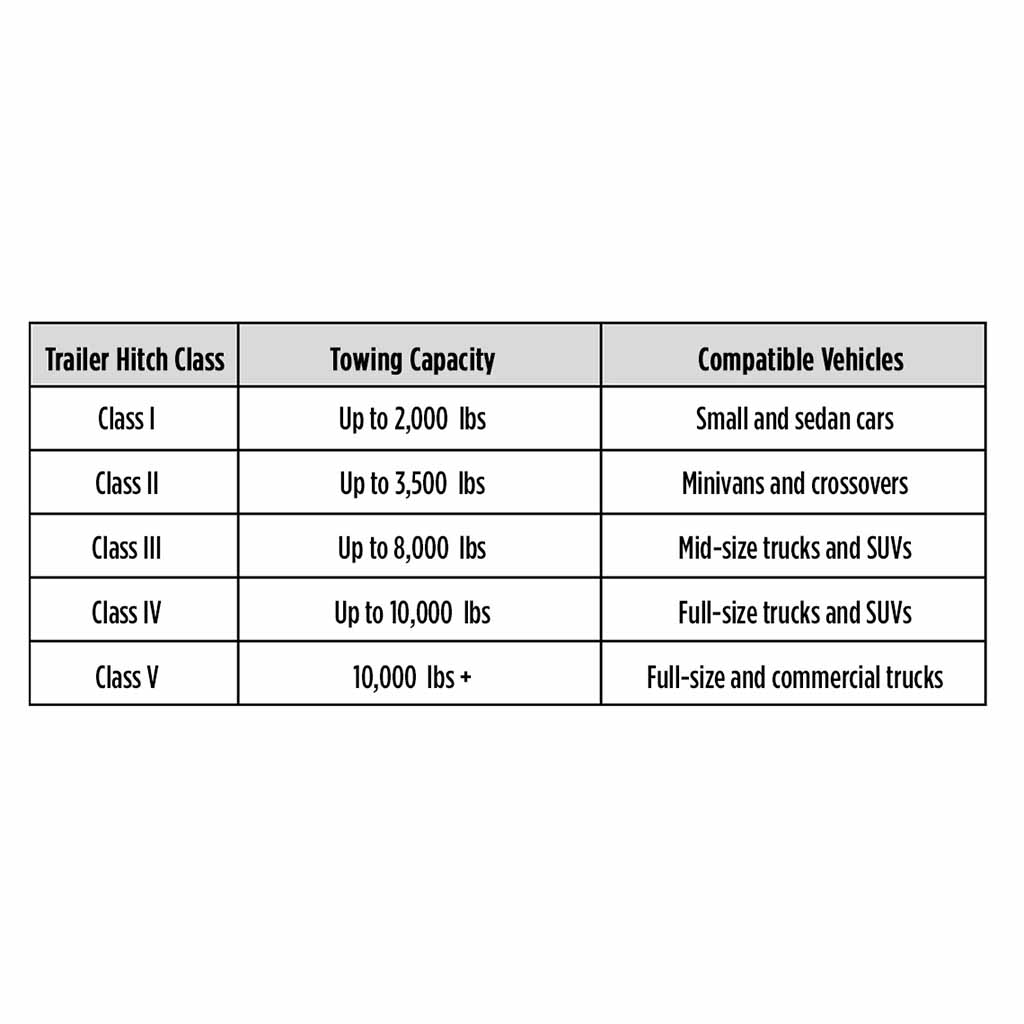 Class one trailer hitches:These have the lowest capacity and can be found on cars and crossovers. They have a 1-1/4" receiver and can carry a trailer up to 2,000 pounds.

Class two trailer hitches:You'll find class two trailer hitches on cars, minivans, and SUVs. They have a 1-1/4" receiver tube and can carry a trailer up to 3,500 pounds.

Class three trailer hitches:These hitches are commonly found on vans, trucks, and SUVs. They have a  2" receiver tube and can tow up to 8,000 pounds.

Class four trailer hitches:Found on SUVs and trucks, class four trailer hitches have a 2" receiver tube and can tow up to 12,000 pounds.

XD class five trailer hitches:These heavy-duty hitches are commonly found on SUVs and trucks. They have a  2-1/2" receiver tube and can tow up to 17,000 pounds.

CD class five trailer hitches: These are extremely heavy-duty hitches that you'll find on fifth-wheels as well as dually and chassis cab trucks. They have a 2-1/2" receiver tube and can tow up to 20,000 pounds.
Ball Mounts for any Trailer Hitch
Trailer Hitch Ball Mount
The ball mount, also commonly referred to as a ball hitch,  is made up of a trailer ball platform and a shank. The shank is what you'll insert into the hitch receiver tube. The platform gives the trailer ball a mounting point.

You can find ball mounts in a range of styles and in varying capacities. Some of these include fixed ball mounts, which are made up of just one piece. Then there are adjustable ball mounts, which you can adjust to suit your specific towing needs. No matter what type of ball mount you get, it will most likely have a hole in the shank where you'll attach either a hitch lock or a hitch pin.
Locks the Ball Mount In Place
Trailer Hitch Hitch pin
The hitch pin is a very important accessory for your trailer hitch because it's what keeps the ball mount shank from sliding out of the hitch receiver tube. The hitch pin usually shaped like an "L," and is designed so you can insert it into one side of the hitch receiver and pass it through the ball mount shank to come out the other side.

Hitch pins have a hole on the end. This is where you'll put a clip that's shaped like a hairpin. Made from spring steel, the hitch clip's job is to keep the hitch pin in place.
Prevents Removal of The Ball Mount
Trailer Hitch Lock Pin
If your trailer is going to be left unattended for a period of time, you may want to upgrade from a hitch pin to a hitch lock. A hitch lock is key-operated, which adds an extra level of security from potential thieves.

A hitch lock works much like a hitch pin. The difference is that, instead of a clip, you'll insert a padlock or cap that is only accessible with a key. This locks your hitch and makes sure nobody can easily take it off without the key.
Get It Done Right
Trailer Hitch Installation
Because most hitches are vehicle-specific, it isn't usually too difficult to choose the right hitch for your particular vehicle. We can install it for you right here in our shop. Spring Works offers a 1 year parts & labor warranty on all trailer hitch installations. Spring Works provides other trailer service and repairs too. Ask a Spring Works trailer hitch expert for more information on how to choose the right hitch for your vehicle. You can also give us a call or book an appointment online.